NFL Playoffs at Central!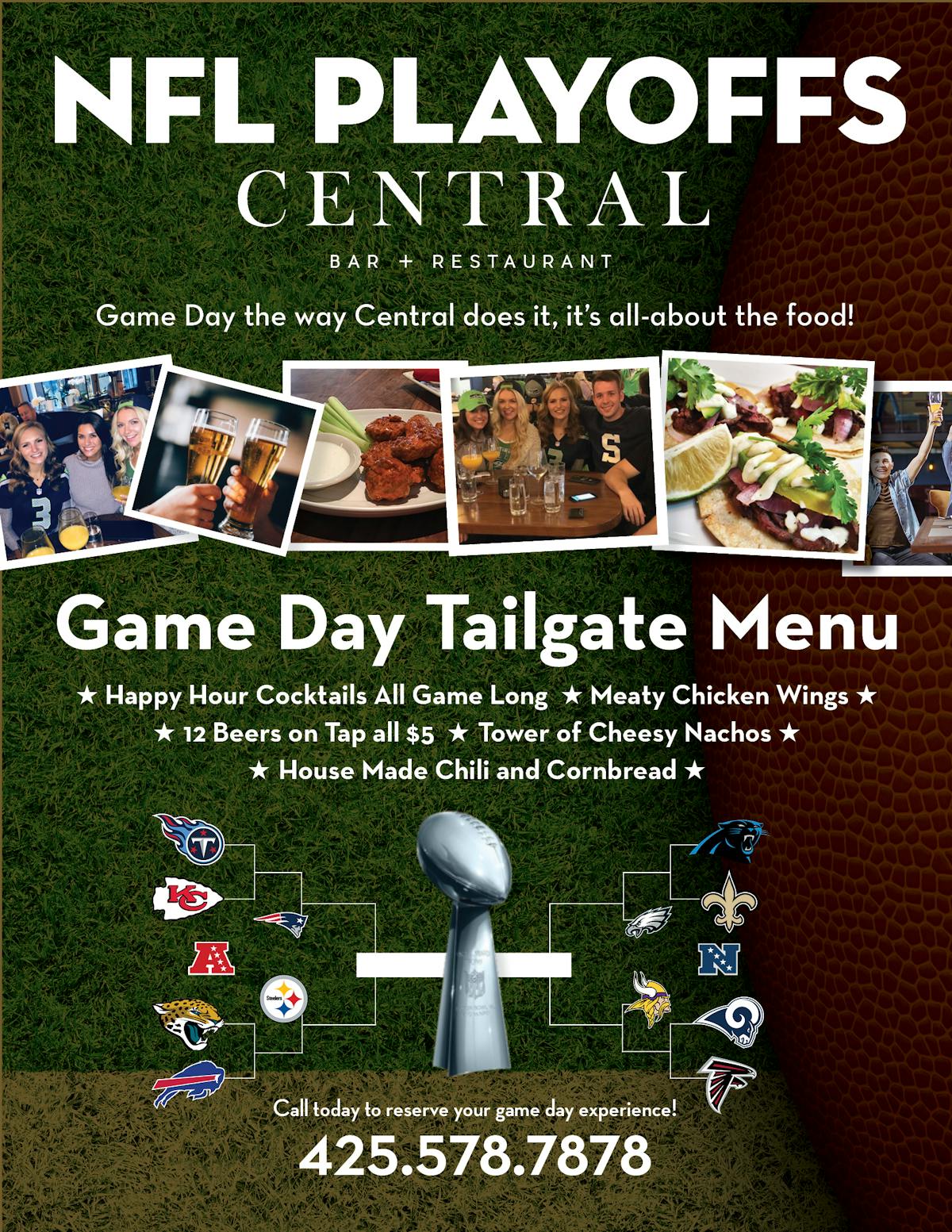 January 13th, 2017 to January 14th, 2018
YOUR PLAYOFF CENTRAL!
YOUR TEAM MAY BE OUT BUT THE SEASON IS NOT OVER! COME WATCH THE ROAD TO THE BIG GAME AT CENTRAL BAR + RESTAURANT. HAPPY HOUR ALL GAME LONG AND NEW MENU ITEMS
We aim to make your game day experience nothing but amazing, so for these playoffs we have new menu items in store for you. New additions to the tailgate menu include meaty hot wings, a tower of Central Nachos, and Spicy Chili with Cornbread!
It's all about the food, but drinks are fun too!
Enjoy happy hour cocktails, wine and beer all game! Including $5 draft beers, our signature swipe right among others, and house wine.
For more information or to book the best seat in the house call 425-578-7878
DIVISIONAL WEEKEND SCHEDULE
SATURDAY, JAN. 13
NFC: (6) Atlanta (11-6) at (1) Philadelphia (13-3), 4:35 p.m. ET (NBC)
AFC: (5) Tennessee (10-7) at (1) New England (13-3), 8:15 p.m. ET (CBS)
SUNDAY, JAN. 14
AFC: (3) Jacksonville (11-6) at (2) Pittsburgh (13-3), 1:05 p.m. ET (CBS)
NFC: (4) New Orleans (12-5) at (2) Minnesota (13-3), 4:40 p.m. ET (Fox)